The daring mission to land a spacecraft on a speeding comet was successful, when the small robotic lander known as Philae reported to Earth after three years deep-space hibernation. France's National Centre for Space Studies (CNES) said. Pictured is an artist's conception of the Philae lander on the comet with Rosetta in the background.
While Philae will be doing its best to touch down very gently on the comet's surface, we can't count on Churyumov-Gerasimenko doing the same if it ever paid LA a visit. You can get some idea of what would happen in such a collision here, although the scale of the damage depends greatly on the impact speed you choose to enter.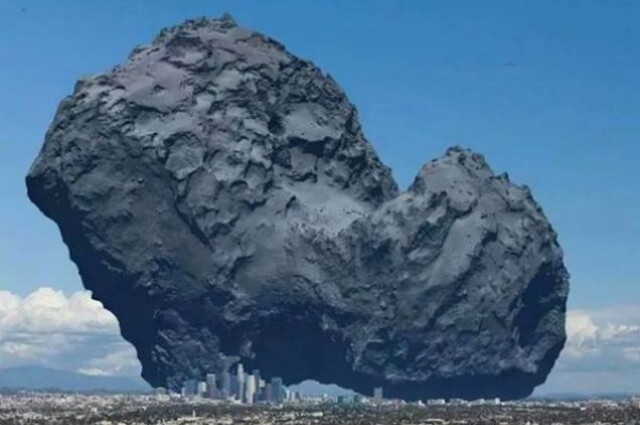 Since Churyumov-Gerasimenko never crosses the Earth's orbit there is no danger of a collision, at least until a close encounter with some other planet shifts its orbit. Unfortunately the same cannot be said for other, even larger, asteroids and comets. Graphic shows the size of comet Churyumov-Gerasimenko.
Rosetta's Plasma Consortium (RPC) has uncovered a mysterious 'song' that Comet 67P/Churyumov-Gerasimenko is singing into space. The comet seems to be emitting a 'song' in the form of oscillations in the magnetic field in the comet's environment. It is being sung at 40-50 millihertz, far below human hearing, which typically picks up sound between 20 Hz and 20 kHz. To make the music audible to the human ear, the frequencies have been increased in this recording. Original data credit: ESA/Rosetta/RPC/RPC-MAG. This sonification of the RPC-Mag data was compiled by German composer Manuel Senfft.
Singing Comet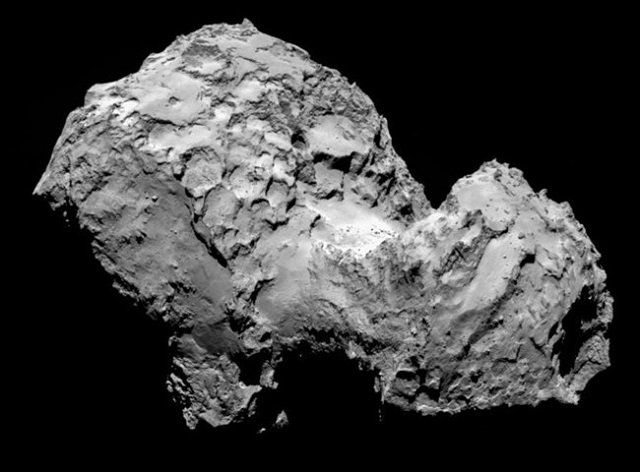 Photo taken by Rosetta's OSIRIS narrow-angle camera. Comet 67P/Churyumov-Gerasimenko is pictured from a distance of 285 kms.
---
Permissions in this forum:
You
cannot
reply to topics in this forum